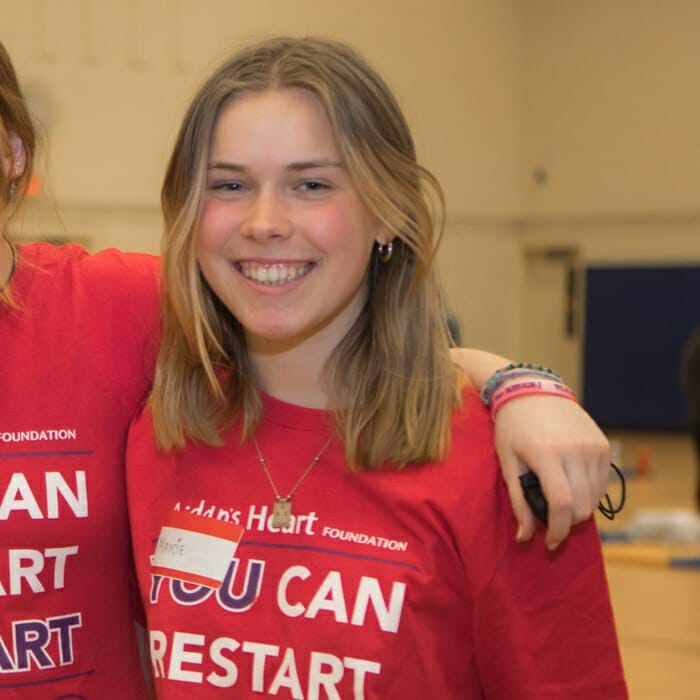 On Thursday June 2nd, Aidan's Heart Foundation hosted for the first time a "Youth-Led Hands-Only CPR + AED Community Training" event at the Marsh Creek Sixth Grade Center. While the event was hosted by our three Heart Hero CPR trainers, Cameron Donovan, Teigan Brown, and Jack O'Connell, the event itself would not have been possible without the time, effort, and dedication of the Heart Hero Executive Team. This Heart Hero Executive Team is made up of three local high-school students—Maycie Kulp, Bailey Mullen, and Anna Powers.
Aidan's Heart Foundation takes extensive pride in our volunteers and once again chooses to use this opportunity to highlight each of the three young Heart Hero Executive Team members. These Heart Hero members contributed significantly to the preparation and success of the June 2nd event.
Let's begin by spotlighting hero MAYCIE KULP.
This young woman is an upcoming high school junior who attends STEM Academy in Downingtown, PA. Maycie, a middle child, is not the only "Kulp" who attends STEM, as her incoming freshman sister and soon to be senior brother are also enrolled. A lifelong PA resident, Maycie enjoys giving horseback riding lessons, working as a summer camp counselor, running, hiking, and pet sitting.
This unforeseen special connection to Aidan's Heart Foundation began over a decade ago since Maycie and Aidan were friends during their early years. Maycie's mother, Jenna, is a board member of the foundation, and has also been involved since its formation. Maycie shared being present at the first "5K for Aidan J." in 2011 and has been an active participant every year.
As a result of her involvement in the foundation she has been able to witness an increase in community awareness of the importance of CPR and AED. This change has inspired the 16-year-old to "do more" in an attempt to carry out the foundation's mission. While Maycie has always been a volunteer and strong supporter of Aidan's Heart Foundation, her role in recent years has expanded to include organizing events, spreading awareness of the importance of CPR and AED to her STEM classmates, and training others in these life saving avenues. It is her firm belief that by educating and training, we can further produce a well-informed community capable and confident in performing CPR and AED, thereby reducing the number of lives lost to Sudden Cardiac Arrest (SCA). This inspires Maycie and forges her belief that this area is where she can have the greatest impact.
In talking with Maycie, she openly admitted that although adults are vital, it is the youth who are crucial to building a safer and better community, "I want to use the fact that I am young and still in high school to my advantage and share knowledge on how to save a life. The fact that I, a 16-year-old girl who struggles to complete math homework sometimes, can actually help save lives is inspiring."
The inaugural "Youth-Led Hands-Only CPR + AED Community Training" was enthusiastically received while inspiring many lives in the process. With nearly one-hundred attendees, including over 50 high school students participating in the event, Maycie was able to witness all her hard work, time, and effort come to fruition. The possibility that just one person in attendance could someday demonstrate their recently learned skills in an unforeseen circumstance is what makes it all worthwhile.
When school resumes in September at STEM, Maycie anticipates studying health and medicine as her career pathway. Although she describes the rest of her future as "up for grabs at the moment," she is confident that her niche lies somewhere in the medical field and helping others.
Written by Barrett Snyder
Barrett Snyder holds a Master of Science (MS) in Sports Management, and a Master of Business Administration (MBA). In his free time, he enjoys freelance writing, exploring the principles of kinesiology, reading about political theory, and mentoring those within his academic programs.